Back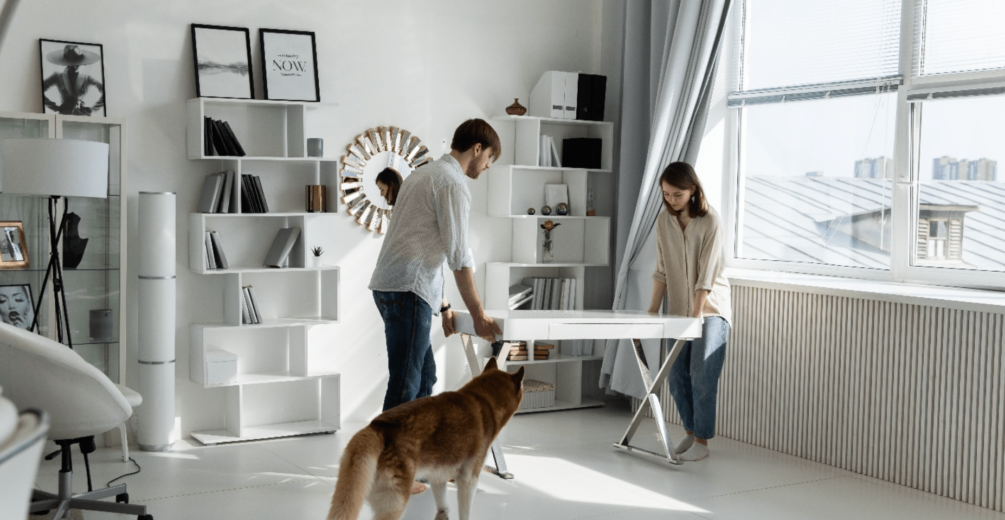 Moving with Pets: A Guide to Keeping Your Furry Friends Safe and Comfortable
By maffuccimoving September 21, 2023
Moving from one place to another may be a stressful and intimidating experience. But wait till you add your pets into the mix!
If you have a pet, we can understand how much you adore them. We know that there is comfort in routine for our four-legged and feathered friends and that moving is the ultimate struggle. Fortunately, numerous options are available to ensure that moving with pets goes as smoothly as possible.
A well-thought-out plan will alleviate stress during packing and transferring your household, resulting in a simpler transition for everyone.
Steps You Can Take for a Stress-Free Move with Your Pets
Consider the excitement of discovering a new area, sniffing out the local parks, and making new furry pals. However, you should be aware that pets require extra attention and care during the moving process to ensure their well-being and to assist them in adjusting to their new surroundings.
Naturally, you'd want their moving experience to be as easy and stress-free as possible. Here are some steps you can follow to ensure that:
Maintain Their Regular Routine
If you're decluttering your belongings or arranging your packing to-do list, it may be tempting to skip the daily routines with your pets, but the minor disruption to your flow now will pay off in the long run with a happier pet.
Animals, particularly dogs and cats, are creatures of habit. They become more anxious as your schedule changes. So, maintain your routine and normalcy by continuing with regular walks, feeding schedules, and playtime. Make sure to give them extra love and patience. Remember, they are also stressed!
Find A Safe Space for Move-Out Day
Keep your pets in a secure, quiet room away from the chaos on a moving day. This will reduce their tension and prevent them from fleeing during the moving process.
When the chaos overwhelms them, having a tiny room, corner, or open closet is critical, especially for cats and dogs. But make sure they don't feel abandoned in a strange new environment.
It may be preferable to leave your pet with a friend, family member, or a reputable kennel for a few days while you relocate. If you have pets, make it a priority first to prepare your pet's space in your new home. Place their blanket, cage, or crate in a quiet area away from the hustle and bustle of everyday life.
Consider putting dogs and cats in a room with a lockable door during move-out and move-in because the front door will most likely be open as you carry everything inside. The last thing you need is to have to run around chasing an escaped pet on your already long day.
Prepare an Essentials Kit
You should pack a pet kit for anything they require throughout the transition. This includes food, meds, bowls, a leash, toys, grooming tools, and any required documentation. The kit will be helpful during the journey and the first few days at your new home.
When moving with a dog or cat, don't forget to include a leash or collar with identifying tags and a recent photo of your pet in case they get lost during the relocation.
Look into Travel Options
If you're considering how to move long distances with pets, choose the best means of transportation for your dogs based on the length of your move.
For a long-distance move, flying can be an option. So, look into the airline's pet policy and pick one that offers adequate pet accommodations.
Otherwise, plan for many breaks if you're traveling by car and keep your pets' comfort and safety in mind. If your pet is wearing a seat belt, give them as much space as possible. They'll need enough space to sleep comfortably without having packed goods fall on them. Tuck a bed or blanket into their seat if they use one. Their favorite toys can also help relax them. 
Give Them Time to Adjust
When you first move into your new house, limit your pet to a small, secure area until they feel comfortable exploring the entire space. Make a special spot in your new home for your pet to feel safe.
Try to walk your dog about your new house (or apartment), allowing them to detect new odors and adjust to their new environment. You can also take your dog on a stroll through your new area before settling in to familiarize them with the sights and smells.
Some valuable tips for moving with a cat is that owners should move their kitty litter to a more permanent position after they are more at ease with their surroundings. It would also be best if you didn't rush to replace their old toys, beds, or water bowls—the more familiar the objects, the better. Allow your cat to hide in a dark spot until it feels safe.
Remember that your pet's well-being should be a major priority during the relocation process, and you can give them a sense of security, comfort, and joy in their new home with the appropriate approach.
By hiring Maffucci Moving, you can ensure a stress-free transfer for your furry friends. Our team works to bring the best experience when moving with pets. So, contact us today to kick-start your relocation process.
---