Back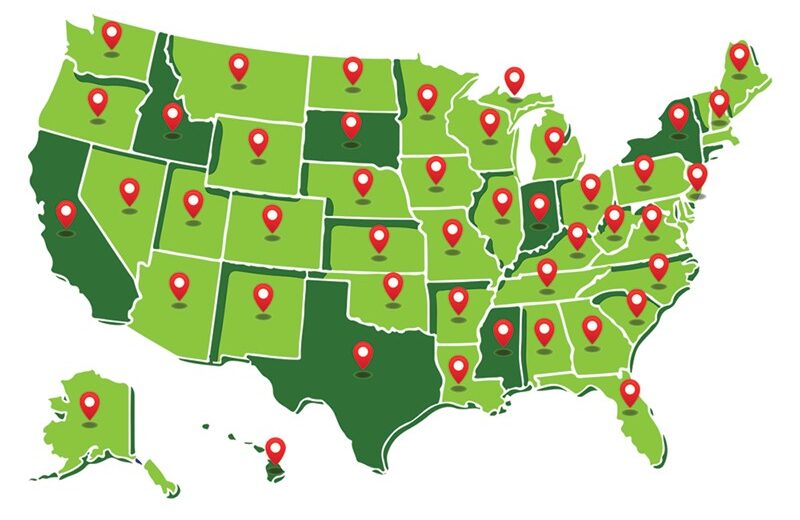 Long Island Commercial Movers Discuss Top States for Relocating Business & Employees
By maffuccimoving July 13, 2021
Looking to move your company headquarters somewhere more business-friendly? The Long Island commercial movers of Maffucci Moving & Storage have been helping companies and their employees move for over 110 years—so you could say we know a thing or two about it!
While NYC is certainly a popular locale for all kinds of global businesses, there many other U.S. cities that may end up being more favorable depending on the nature of your work. The most popular places our Long Island office movers have been going include the following states:
North Carolina
Nevada
Florida
See why these three states have grown in popularity for businesses, and then contact us to learn more about the logistics of your business or employee relocation.
Enjoy Lower Income Taxes
All three of these states offer an attractive income tax rate for both individuals and corporations. Together, these favorable tax rates make them a great place to settle your business and your employees!
The non-profit organization Tax Foundation has done in-depth research on taxation and has ranked these states accordingly:
North Carolina: 4th best for corporate income tax, 16th best for individual income tax
Nevada: 25th best for corporate income tax, 5th best for individual income tax
Florida: 6th best for corporate income tax, 1st best for individual income tax
Attract Talent with High Quality of Life
Beyond the great tax rates on individual income, these three states share another feature that makes them a desirable place for your potential employees to live: a high quality of life. With decent year-round weather and plenty of recreational activities, each region has its own unique attractions.
Here are just some of the highlights of each state:
North Carolina: From the Outer Banks to the Great Smoky Mountains, North Carolina has a mix of outdoor activities. Research Triangle also attracts global talent of all ages, contributing to a diverse population with lots of entertainment options.
Nevada: Although best known for Las Vegas, Nevada has more than casinos and city lights. Locals and tourists alike enjoy Red Rock Canyon, the Hoover Dam, Charleston Peak, and Fly Geyser.
Florida: Everyone knows Florida as the home of sunshine! Beaches, boating, golfing, and sports are just a few of the year-round activities available to Floridians.
Offering Expert Business Moving Services Since 1909
If you're moving to make your business operations more cost-effective, Maffucci Bekins can help make your move itself more affordable, too! We've been working with companies since 1909, which gives us far more experience than most Long Island business movers.
We use this unmatched expertise to provide reliable business moving services at competitive rates, including:
Full Move Management
Office Electronics Moving
Fine Art Moving
Modular Furniture Assembly/Disassembly
Inventory Labeling and Coding
Warehouse Storage
And More!
Door-to-Door Employee Relocation Services
As a certified agent for Bekins Van Lines, we're equipped to tackle all of your employee relocations as well! We'd be happy to coordinate with your HR department or individual managers to work through a plan for relocating small or large groups of employees.
Our residential moves are always done by in-house professionals (not subcontractors) and can include your choice of:
Packing and Packing Supplies
Furniture Padding and Wrapping
Custom Crating
Short-Term Storage
And More!
Whether you're moving to one of the states above or some other location in the world, Maffucci Bekins is ready to help. Call our Long Island business movers or fill out our online form to get started with a free quote now!
---