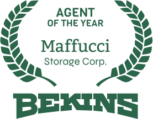 Junk Removal Services
We now offer junk removal as a service! Call our moving experts today to find out more about pricing and information.

Maffucci Moving & Storage is your ultimate solution for junk removal in New York, New Jersey, and Connecticut. Whether you're moving out or need post-move cleanup assistance, we've got you covered. Our expert team swiftly and efficiently removes unwanted items, leaving your space clutter-free.

Contact Maffucci Moving & Storage today for a powerful solution to your junk removal needs.
get a free moving estimate!